Friday 18 May 2018 Dulwich Newsletter 


Dear Parents, 
It was such a pleasure to see so many of our community at Founder's Day. Not even the rain could spoil the spirit of the day! At the end of the afternoon, the scene reminded me very much of the UK. However, our parents who ran the international food stalls were undaunted and did an amazing job. My thanks to the fifteen international stall holders and all their helpers. You made the day extra special as usual. I had to be quite careful, after sampling some unusual and diverse drinks, before joining in the staff versus parents football! Our gratitude goes in particular to Anjana Kainikkara and Viki Shin for encouraging so many volunteers.
Our CEO, Mr. Guertler, commented on the special DCB atmosphere and community spirit, as did so many visitors. I thanked all our musicians, sports students and parent and staff contributors on the day, so I shall not repeat myself here, but I would like to highlight Ashley Wu and Maggie Jiang from our Events team, who really went above and beyond to ensure that everything ran smoothly.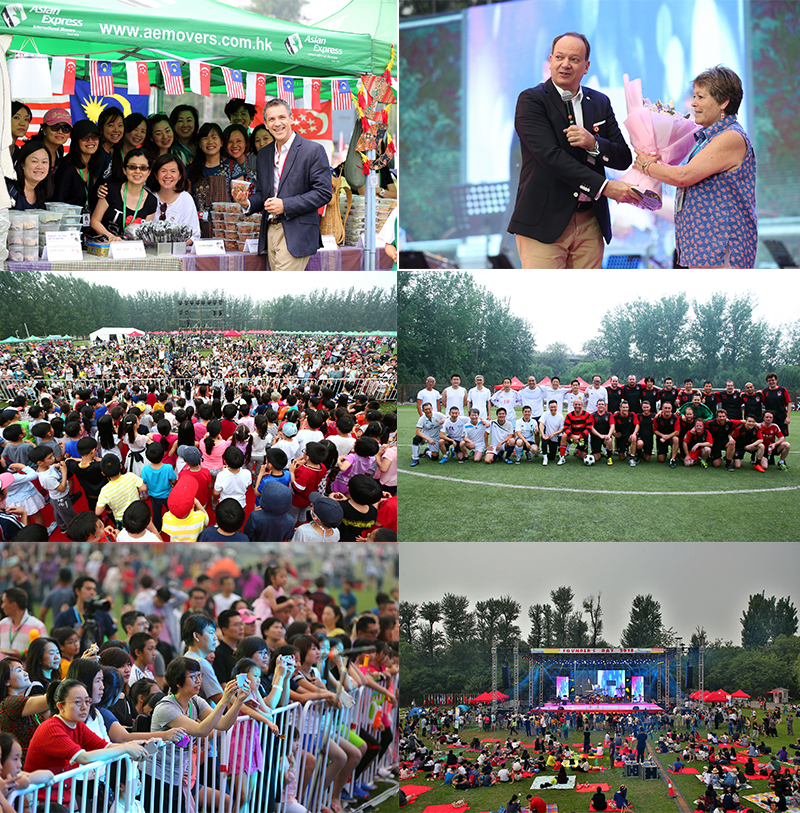 Our Early Years Key Stage 1 children, from both Legend Garden and Riviera, were on sparkling form this week, as they 'rumbled in the jungle' and gave a superbly entertaining performance to their parents, who packed out the Wodehouse Theatre on both Monday and Tuesday evenings. Ms. Sophie Lamb, Head of Music in Early Years, was the driving force and deserves congratulations, along with our wonderful Early Years teachers and TAs, for their hard work in preparation for these events.
This week I attended the official signing of Dehong Beijing between DCI Chief Executive Officer, Mr. Christian Guertler, and Mr Chen Wei-bo, Chairman of Luneng Beijing. Dehong will be a sister school to DCB, open to Chinese nationals, with a curriculum which reflects that. We look forward to supporting and collaborating across several areas. I am pleased to report that the Luneng executives commented on the high quality and reputation of DCB, which has given them confidence throughout the process.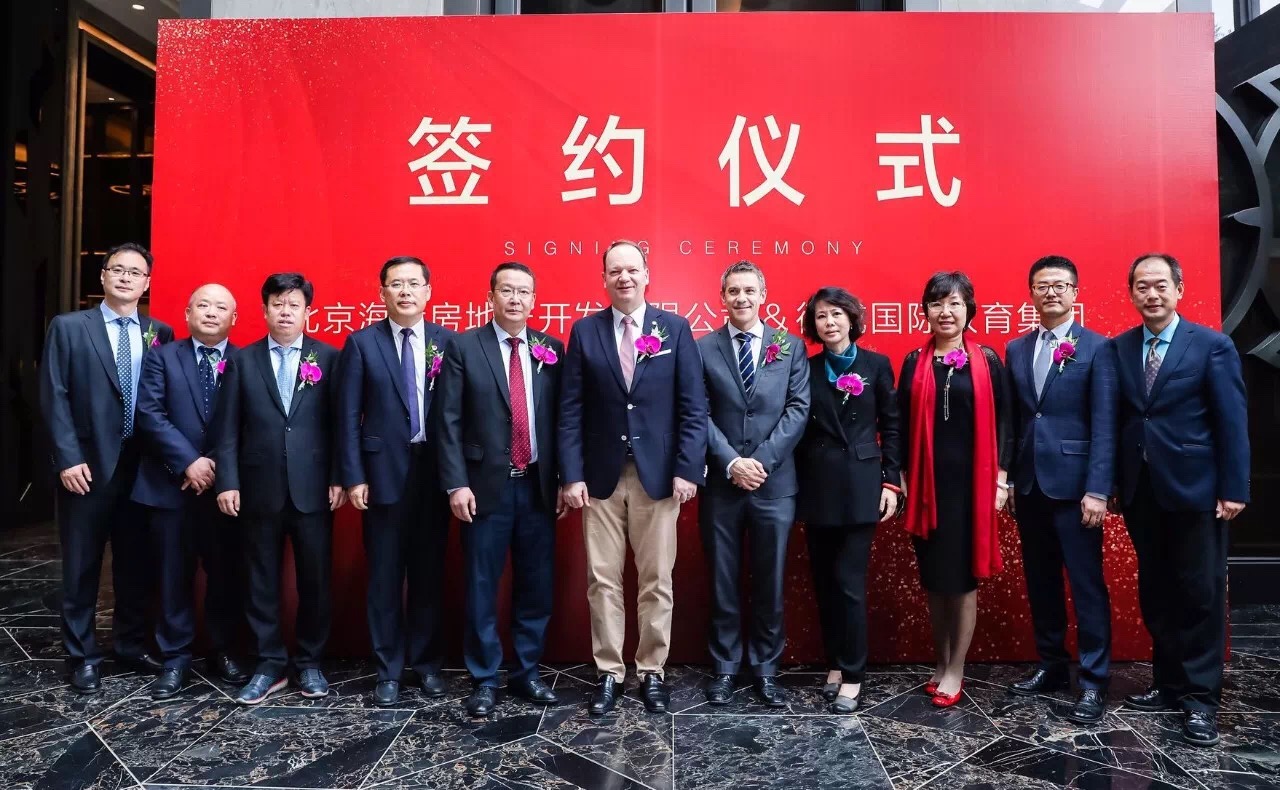 Finally, last Sunday, the Dulwich College International Science and Art Photo Competition finals took place at the Luo Hong Art Gallery adjacent to the College. We were delighted that two of our students and one of our parents, Lauren Z, Scott J and Ms. Tao Luo, were among the 15 finalists from the 900 entrants from 11 schools. In fact, Scott had two photos in the final and gained first place for his photo of Nepalese children. Lauren's Yunnan mountain view was top in her category for Year 9 and under. Well done Lauren, Scott and Ms. Luo.

The IB exams have now finished and I look forward to seeing Year 13 parents and students at the Graduation Dinner on Saturday night at the Nuo Hotel.

Thank You for Supporting Founder's Day 2018!

We hope that you all had a great time on Founder's Day last Saturday! It was amazing to see the whole community coming together to bring about such an enjoyable event. 
Our sincere 'thank you' goes to everyone in the DCB community who has made contributions in their own way, especially to parent country reps and volunteers who worked extremely hard to make the International Food Festival another sensation and to our dads who gave up their time during the day to play the football match with the DCB staff.
Such a large-scale event would not be possible without your dedication and support!

Director of Admissions, Marketing and Communication 
Share Your Moments - Founder's Day Photo Contest!  
Splashing Your Teacher? Winning the Hamper Prize? Tasting Delicious Kimchi or Samosa? What were your own highlights of Founder's Day 2018?
Now when it is all over, we want to hear from you.  Please send us your favourite captured moments from last Saturday and … win a prize!
*   Minimum of 1 megabyte – limit of 3 photographs per person  
*   Please indicate your name, whether you are a student, parent, staff member or a friend of DCB
*   Photos should be emailed to greta.wang@dulwich-beijing.cn
*   Deadline: 31 May 2018
There are two categories:
*   Students 
*   Adults
From each category there will be one named winner and two honourable mentions.Winner in each category will receive a family card to TRB worth 5,000RMB. Thank you to our Founder's Day Platinum Sponsor Hulu for supporting this competition!

FROM FRIENDS OF DULWICH
CHARITY UPDATE 
As with every year, in the 2017-2018 academic year the Friends of Dulwich have been raising money for charity. This year, we decided to work together with the students and teachers of DCB and support Senior School student charity Interact by raising money for the Yunnan Project Migrant School and Orphanage at this year's Dulwich Dinner Dance. We are delighted to share with you that a wonderful 150,390rmb was raised for this charity. 
With the Founder's Day last  weekend, we were raising funds  to another of DCB Interact's chosen charities: Bethel China, so helping blind orphaned children in the Beijing area.  The amount raised from this event will be announced soon, as the money from different country stalls is still coming in.
With the help of the DCB community, the Friends of Dulwich  have also raised further funds this year at Coffee & Books, Mobile Coffee  and other fundraising events. The final total will be shared at the Friends Annual General Meeting (AGM) on 6 June 2018 with all parents invited to attend.
It is proposed that this third charity will be decided on by the following procedure: It will be voted for at the AGM from a shortlist drawn up by the Friends charity committee. All parents  in the wider parent community will be able to put forward a charity of their choice between now and May 30th. Any applications or suggestions of charities need to be sent in the form of a brief resume to the Charity Coordinator, Mrs. Charlotte Beckett at charlotte.s.beckett@outlook.com  by 30.5.18. 
We are looking forward to hearing back from you!
2018-19 Calendar
Please note that our school calendar for 2018-19 is out. Please click here for key dates in the next academic year.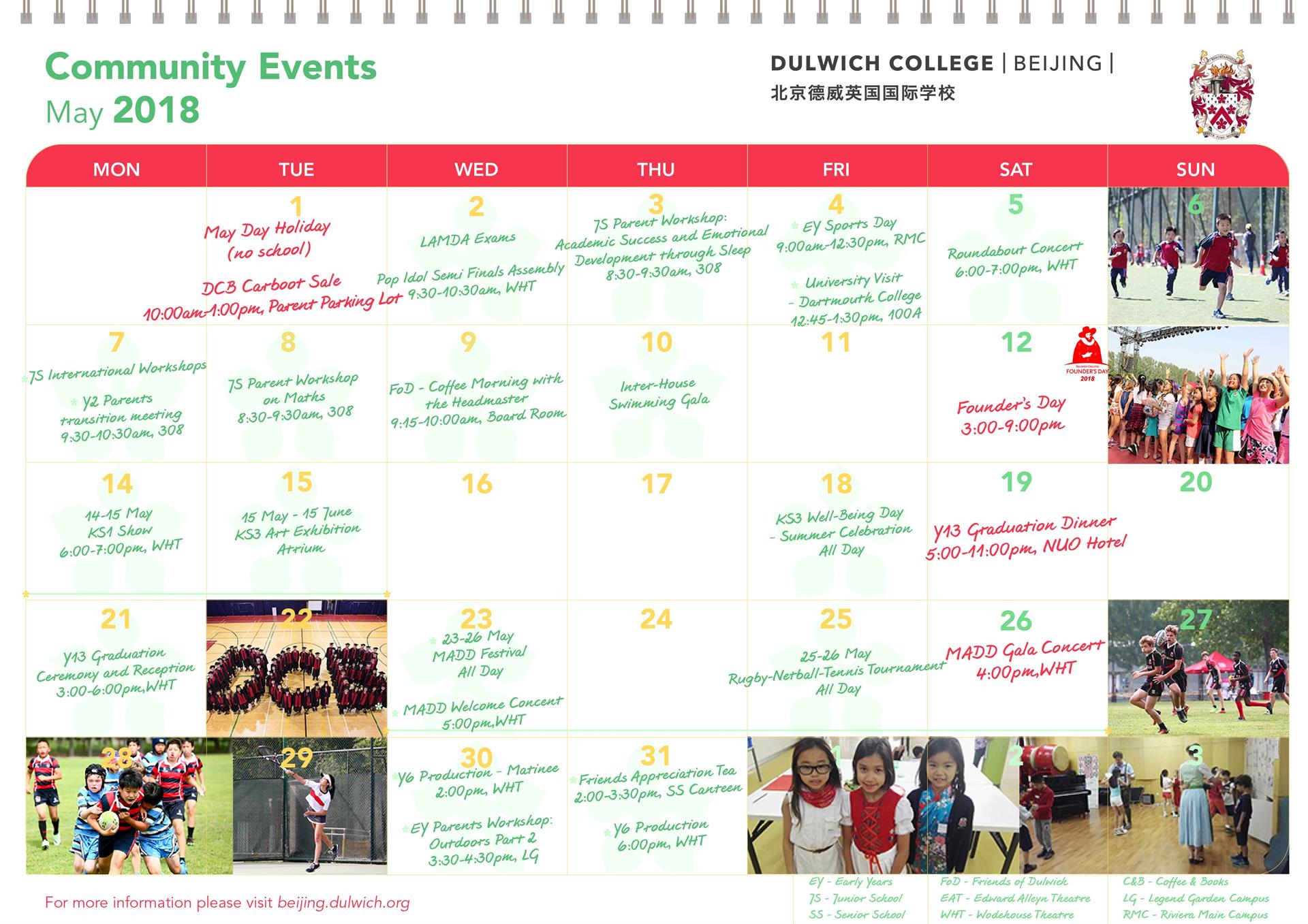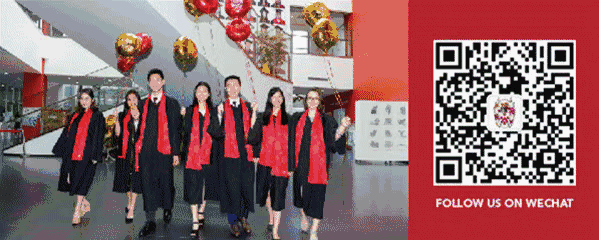 Copyright © 2016 DULWICH COLLEGE BEIJING. All rights reserved. 
BEIJING LEGEND GARDEN CAMPUS
89 Capital Airport Rd, Shunyi District, Beijing, 101300
BEIJING RIVIERA CAMPUS
1 Xiang Jiang North Rd, Jing Shun Rd, Chaoyang District, Beijing, 100103